MAG-FORM®

Self tapping screws engineered to minimize debris generation when tapping into conventional magnesium die-castings and other low-ductile materials.
Standard thread-forming screws with a 60° flank angle create excess debris when driven into low-ductile materials. They can easily exceed the ductility limits of the material, causing damage to the formed threads.
Mag-Form® screws are specifically designed with a broader flank angle to eliminate tapping operations while forming strong threads in conventional magnesium die-castings and similar materials. The design also minimizes debris, making Mag-Form® fasteners the optimal solution for critical applications such as
electronics and air bag modules.
Features
Lobular Configuration
Wide-spaced thread design
Broad flank angle compresses, rather than roll-forms, threads into the mating material
Benefits
Minimizes debris generation
Forms strong threads in low-ductile materials
Easily removed and reinserted for service in the field

Standard 60° Flank Angle Thread-Forming Screws
May exceed ductility limit of the material, causing damage to formed threads

Mag-Form® Thread-Forming Screws
Compressive action forms strong threads in low-ductile materials
Design Guidelines
Sizes: MG1.0 to MG16
Thread Design: Wide-spaced thread with broad flank angle
Head Design: Can be used with any external or internal head designs
Drive System: Can be used with all systems, including the TORX PLUS® Drive System
Finish: Zinc and chromate to minimize galvanic corrosion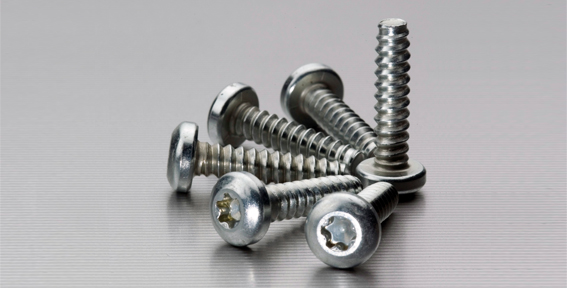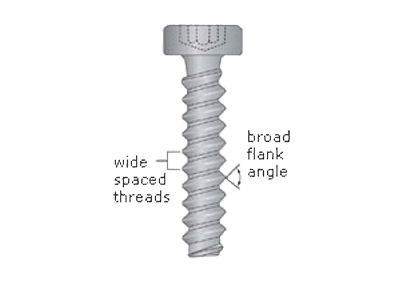 Features
Lobular Configuration
Wide-spaced thread design
Broad flank angle compresses, rather than roll-forms, threads into the mating material
Benefits
Minimizes debris generation
Forms strong threads in low-ductile materials
Easily removed and reinserted for service in the field

Standard 60° Flank Angle Thread-Forming Screws
May exceed ductility limit of the material, causing damage to formed threads

Mag-Form® Thread-Forming Screws
Compressive action forms strong threads in low-ductile materials
Design Guidelines
Sizes: MG1.0 to MG16
Thread Design: Wide-spaced thread with broad flank angle
Head Design: Can be used with any external or internal head designs
Drive System: Can be used with all systems, including the TORX PLUS® Drive System
Finish: Zinc and chromate to minimize galvanic corrosion